How to Not Fail in High School Theatre Auditions
I recently interviewed Pablo Agosto, and former High Theatre School Thespian in the Orlando area. We talked about the transition from Middle School to High school Theatre.  He had the opportunity to perform in a music and at the District, State, and International Thespian Festivals, not only in Tampa, but also in Nebraska.  
He said that when he was just beginning in High School Theatre, the mere size of the theatre space was overwhelming.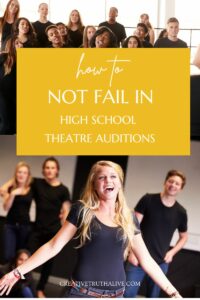 Pablo says, "The set pieces were huge, and they were all built by the theatre students! However, even though I was overwhelmed, I just had to go ahead and audition anyway. I thought since I was good at improvisation, I would step in and try-out!"  
"I was quite devastated when I didn't get the part that I auditioned for. However, a friend told me that another part had opened up for the same musical, and I was willing to try for it, so I went into a private audition with the director.  I got the part! And later on, the director even double cast me in a second role, and even though I didn't have any lines I was very happy!"  
Pablo says, "Later on, I got a role in another musical called Brightstar playing a part with lines! And we took this show to the festivals! So, I was really glad that I didn't give up.  I never regretted anything. I was very grateful for the role that I was given. I got to share the stage with actors and actresses that I hadn't previously worked with."   
Here's some things that he wish he would have known coming into the igh school theatre auditions for the first time: 
Come with a resumé of your acting experience. 
The directors will need to see how you qualify for a role. A little experience on a resumé experience is better than zero experience. Though it's okay if you don't have any experience, because many directors are willing to train you.  Don't be afraid to mention smaller performance experiences like class plays in middle school and high school.   
Research the play before you show up to the auditions to familiarize yourself with the characters and the story. 
This will help you connect with the character that you are trying out for.  You can practice representing that type of personality before you arrive to the high school theatre auditions. This way it will be natural to you, and won't require so much improvisation.  
Don't take the casting results personal.
Disappointment may make you want to quit showing up to high theatre auditions. However, if you don't get the part you wanted, don't say no to being in the production entirely. Directors need to see you're capable and willing to be a humble part of the team. You need to prove yourself to the directors, and in time you may book bigger roles.  Be super grateful for any role that you receive!   
Consider applying for a stage tech position if you don't make it in the production the first time you audition
. 
You'll learn a lot if you are watching all the action happening by all cast and crew members during rehearsals. You'll get to connect with people in the Theatre Department. It will also be a positive reflection to directors at the school of your "team player" attitude. You may have the time of your life, too! 
Thoroughly practice your audition material before you arrive. 
Don't wait until the last minute to choose your song and/or monologue. Practice in front of other people who can give you good feedback!  
Pablo had such a great time participating in High School Theatre.  That was his "tribe".  It challenged him, and made him a better person.  He said he got more and more confident as time went on.  Pablo says, "Give it a shot! Don't be afraid. Go for it!"
Do you have high school theatre auditions coming up?
Do you need help preparing for them so you feel confident and competitive?
Creative Truth Alive provides coaching in acting, voice, and piano. We can  also shoot audition videos in our studio at The Revelation Collective with professional videographers so you get quality sound and lighting!  
Check out our new Professional Performer Career Programs!